The Indian Mythological shows THE MAHABHARATA and THE RAMAYAN have been the ruling Indian TV during this lockdown and has the highest TRP amongst all the watched shows during this pandemic period.
||

 VARSHA SAHOO
---
The audience did not want to watch kitchen politics and the melo-dramatic saas bahu serials on TV during this lockdown rather they preferred the mythological shows that were being played. Not only Ramayan and Mahabharat but also shows like Jai Shri Krishna, Vighnaharta Ganesh, Sankatmochan Mahabali Hanuman, Devon ke Dev Mahadev and Radha Krishna were also given priority over other dramatic shows.
Besides educating the people about the historical part of life these shows also gives many life lessons and also have a combination of purpose and nostalgia. The older people love to see all these shows where kids of this generation who only love to binge watch Netflix also get to larn many things from these shows, which are well narrated and gives proper information about the past. When these shows come up in TV during normal days people prefer watching serials with new episodes more than this but when those serials are repeated people do not want to watch them again, which justifies that these shows are only one time program.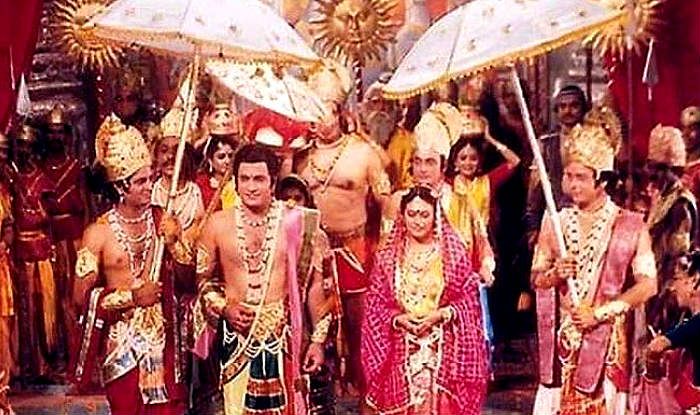 These family shows provide comfort and calmness that is required in this period, they teach us to be patient and seek hope for all the goodness and betterment that is now required. It shows us how in those golden days people used to survive and dealt with their problems with complete patience and hope. It has also been psychologically proven by the doctors that these shows are having a calming effect on its viewers.(As stated by The Times of India)
And also Indian people have lot of beliefs on the mythological facts as wells as myths, so they watch these shows with complete interest. The hope of the viewers have kept them adhered to these shows because they themselves think that these shows would help them overcome these situations.
The Hindu religion and culture is ancient, colourful, and theatrical, and nothing better illustrates this than its two great epic poems: The Ramayana and the Mahabharata. Throughout the ages, the Ramayana has moved from an oral tradition, much like Homer's tales, to a written text read by an educated elite, to a plethora of legends, works of art and devotional practices.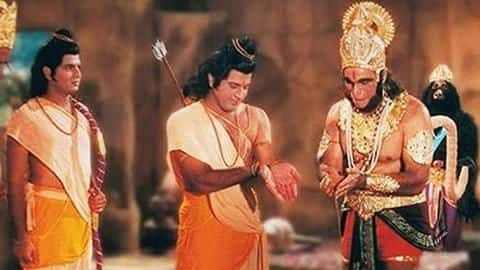 The two epics have spread a lot of religious as well as cultural learnings. There is no bar of time, space and space all over the world.
As per the Broadcast Audience Research Council (BARC), it is found that the re-telecast of Mahabharat and Ramayan resulted in nearly 40,000 per cent jump in the viewership of the channels, as the shows kept the audience glued to those channels. Because of these shows Doordarshan has become one of the top most channels in India now. Re-telecasting is not only beneficial for the channel but also for the actors, directors, producers and all the other people who worked hard behind these shows.
By looking at the reviews of different people about the shows states how much these shows are loved by all the family members and also brings all the family members together for few hours to sit and watch these mythological shows. In spite of binge watching and playing video games  kids also learned some moral value.